We have had our catering company for almost 15 years and decided to add a bit more fun and ability to be even more creative by purchasing a food truck in 2016.
Not only to have a mobile kitchen for events, but to serve the communities near us some souped up food!
We are culinary craftsmen and artists!
We love simple things, that we prepare with the highest care and respect with the best ingredients possible with a strong technical foundation.
We're obsessed with taste: not just knowing what tastes good but why. This our way to live and understand life.
Here is a bit more about our philosophy: We try to give our best every day. We are honest to ourselves and to our customers.
We trust in our abilities and each other. We believe in the driving force of love and the impact it can have in what we create.
What moves us is the gratitude from our customers and the happy moments… when we realize that we are part of making someones day just a little bit more special.
We are a couple that has almost 50 years of combined cooking experience. 
We both have culinary degrees and and we always cook: at home, for business, friends and family. 
This business is our passion. We constantly challenge ourselves to create better food and service than we have ever done before.
We simply believe in the power of people and in the magic of food that brings us all together.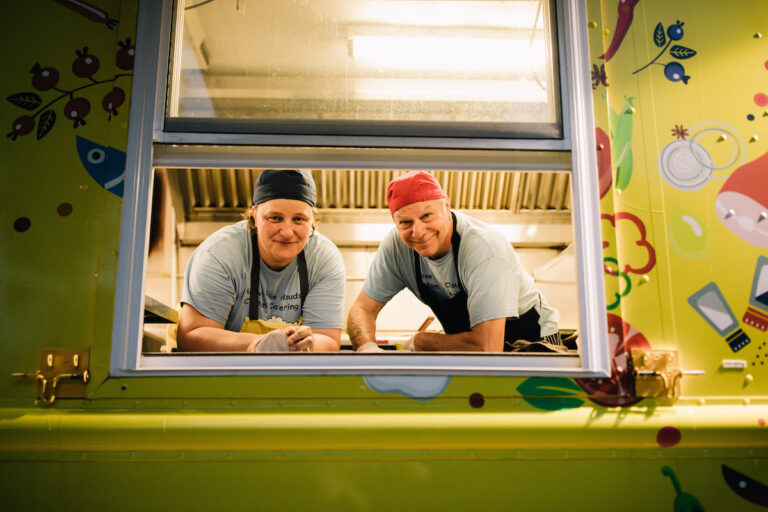 Frequently asked questions:
Where is your food truck serving us?
Can you accommodate special dietary concerns?
Yes, please talk to us about any dietary concerns, we always have options for vegetarian, gluten free, vegan etc. Since we make almost everything from scratch, we can adjust dishes with whatever we have on the truck.
Is there a minimum amount for private event catering?
Every situation is different, we have a $1000 minimum during off peak times. During peak weekends from May to October we have a $2000 minimum.
How much does a private event cost?
Please contact us for any questions you have about pricing. We do not include them on our website because every event is different. If you are looking at catering a big event, it  is driven by a long list of factors that differ for each case (it's kind of like buying a car…lots of choices). The guest count, menu, duration, location and additional services if needed such as staffing, beverages, bar, service, equipment, and many other items have to be considered. 
We are happy to customize your menu and other services and we will give you an estimate after discussing the details with you. If you already have a budget in mind, we will of course consider that as well.
Will guests pay for their own food at a private event?
We can discuss what works best for your event. You can prepay for all the guests to keep the lines short or people pay for what they choose. If you prepay,  they could choose one item only (most economic) or serve as much food as they like-usually smaller servings. 
To what geographic area do you provide food truck services for events?
We typically try to stay within 1 hour of our Westford kitchen mothership. To inquire about locations outside of this range, please let us know and we can make arrangements.
Is it possible to create a custom menu for a private event?
Yes, our specialty! You can find menu ideas of dishes we have done on our facebook page. Or for large custom catering you can visit our website at Above the Clouds Catering. We would love to customize a menu for your taste buds and budget. We have also created dishes based on family recipes that customers provided us.
How early in advance should I book your truck?
During the warm months we book out very quickly since we also do full service catering, so the sooner you call us the better your chances.